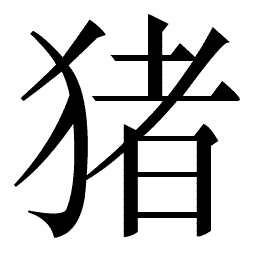 I have not really been bothering to learn the Chinese characters on restaurant menus, which hasn't kept me from eating well.

Has it?

How many specials have I missed out on? You know the secret code is right up there, on the walls, ready to be served only to those in the know. And what am I going to do when I visit the real China? Not Hong Kong, not Shanghai, ideally where no one would understand English?

I'd better get going on this.


On our left is the character for pig or pork found on Chinese menus. Zhu in Mandarin. On our right is the character used in Japanese menus. Ton or buta.

In Chinese, pork is THE BASIC MEAT. It only appears under headings most of the time, under -PORK SECTION- and only as "meat" in the names of the pork dishes themselves. Unlike, say, beef or lamb, which are secondary and appear, as a rule, in each dish, as well as under - BEEF SECTION- or -POULTRY SECTION- .