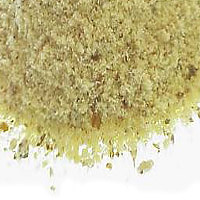 Beyond marzipan, beyond pound cake and cheesecake.

Almond flour, or almond meal, should be used like flour in your main course or side dishes.

Fleur de Sel restaurant in New York serves almond flour crusted soft shell crab meuniere. Fish is always good rolled in almond flour and fried in butter, served with lemon juice and chopped parsley. Almond crusted calamari makes a good appetizer. Alfredo of Rome in New York serves zucchini rolled with ricotta cheese, raisins, almond flour.

Added bonus - just ask low-carb nuts about almond's health benefits.

Bought a packet today at Trader Joe's. Going to try it on trout tonight, perhaps with forbidden rice risotto.